Singing Oak House Concerts Presents
Joe Jencks and Gathering Sparks
Monday, May 14, 2018 at 7:00 PM
* Potluck finger food gathering at 6:15 *
We close our spring season with a special treat for our Singing Oak House Concert fans...two great acts...three great performers!!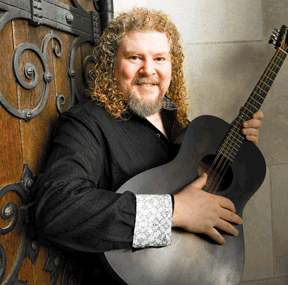 Joe Jencks
Read more >
We're so excited to welcome back the amazing singer, songwriter Joe Jencks!
Joe Jencks is an 18-year veteran of the international folk circuit, an award-winning songwriter, and celebrated vocalist based in Chicago. Merging conservatory training with his Irish roots and working-class upbringing, Joe delivers engaged musical narratives filled with heart, soul, groove and grit. Having penned several #1 Folksongs including the ever-relevant Lady of The Harbor, Jencks is also co-founder of the harmony trio, Brother Sun. From Festivals like Falcon Ridge, Kerrville, Mariposa, and Old Songs, to venues like Lincoln Center and Carnegie Hall, Jencks has enthralled diverse audiences with his approachable style. Joe is noted for his unique merging of musical beauty, social consciousness, and spiritual exploration. Blending well-crafted instrumentals and vivid songwriting, Jencks serves it all up with a lyric baritone voice that has the edgy richness of a good sea-salt caramel. 

Joe Jencks - "Come With Me"

Joe's newest Solo CD - Poets, Philosophers, Workers, & Wanderers - was released May 1st, 2017 - to critical acclaim. The CD has spent several weeks at #1 on Sirius XM's Americana Chart, and was also the #1 CD on the Folk DJ Chart for May, 2017 - with 4 songs in the top 10.

Poets, Philosophers, Workers & Wanderers chases new musical horizons for Joe Jencks. Honoring his mentor and friend Pete Seeger with the title track, this collection of songs progresses into a wide range of human experience from love and triumph, to tragedy and transformation. With arrangements that showcase sparse acoustic textures alongside Copeland-like orchestral tapestries, this recording reflects the depth of Joe's musical knowledge as well as the diversity of his influences. Cinematic in its imagery and scope Poets, Philosophers, Workers & Wanderers features largely original songs influenced by Celtic, Blues, Jazz and traditional American Folk styles, interspersed with a handful of carefully chosen covers. Guest artists include: Ysaye Barnwell (Sweet Honey In The Rock), Cathy Fink, Harpeth Rising, Tret Fure, Reggie Harris, Edie Carey, Jon Carroll, Grace Jencks, and more.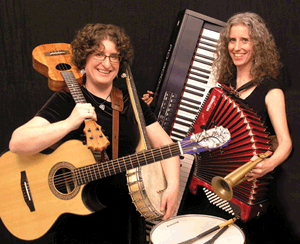 Gathering Sparks
Read more >
You will come to listen, and walk away singing. GATHERING SPARKS is the graceful collision of Eve Goldberg and Jane Lewis—musical friends who blend tight harmonies, finely crafted songs, and a love of participatory singing to create an intimate and uplifting experience. Their inclusive approach embraces folk, pop, blues and gospel influences tastefully played on acoustic guitar, piano, accordion, and ukulele.

With their infectious mix of styles and compelling vocal blend, Gathering Sparks has been making some big waves. Their debut 6-song CD was nominated for a 2014 Canadian Folk Music Award for Vocal Group of the Year, and they have quickly become an audience favorite. Whether they are belting it out a capella style, tugging on your heartstrings with a folky original, crooning a jazzy swing tune, or getting into the spirit with a gospel-inflected singalong, Gathering Sparks performances make fans out of listeners with their stellar harmonies and fine musicianship.

"Phenomenal songs binding the individual skills of its members together as one with rich, honeyed harmonies."
— Eric G. Thom, Penguin Eggs Magazine
<
Clips of "Let Me Rise", "Old Tin Cup (Hold On to What You've Got)", "Do You Wanna Get Married", "Driving Home" and "Right Here" - Gathering Sparks
EVE GOLDBERG has lifted audiences across North America with her heartfelt and insightful songs and solid instrumental work. Her fluid vocals embrace all the styles she loves—folk, blues, country, bluegrass, old time, and jazz—with equal affection and mastery.

JANE LEWIS has followed her love of words from the printing press to the spotlight with soul-bending lyrics, transcendent compositions, and crystal clear vocals. Her thoughtful piano and accordion playing, mastery of harmony, and upbeat presence add a sparkle to any stage.

As solo performers, Eve, Jane, and original band member Sam Turton had each carved out their own niche in the folk/roots scene. But when they came together for a one-time triple bill in 2012, there was a certain "spark" that couldn't be denied. The three loved the magic that came from the gathering of their songs, voices, instruments and styles, and a performing group was born. When Sam retired from the group to focus on other pursuits, Eve and Jane committed themselves to continuing as a dynamic duo. Since then, they have toured across Ontario, Quebec and the Atlantic Provinces, and early 2018 finds them heading to British Columbia and the Northeast United States. They are currently working on a new recording.
Monday September 17 -
Reggie Harris

Monday November 5 -
Freebo

More great artists in the fall 2018!

---

Suggested Donation $20

RESERVATIONS ARE REQUIRED

Please RSVP to
singingoakhouseconcerts@gmail.com
or call 508.237.2024

We'll reply with confirmation, directions
and parking instructions

Potluck Gathering at 6:15 ~ feel free to bring finger food/dessert and/or beverage to share

Singing Oak House Concerts is located in West Harwich at the home of Ralph Diamond and Gail McAleer. All concerts are non-commercial, private events. Admissions are collected as donations, 100% of which go to the performing artist.

This promises to be another amazing concert and rare opportunity to experience these amazing artists in a warm, Cape Cod setting. Thanks and we look forward to sharing the music together!

Ralph and Gail
Singing Oak House Concerts
singingoakhouseconcerts@gmail.com

---

RESERVATIONS ARE REQUIRED.

Some of our house concerts fill up so please RSVP early.

Our house concerts usually begin at 7:00 P.M. with a potluck appetizer/dessert social gathering starting at 6:15. Most concerts are hosted either on Sunday or Monday evenings and our performers usually appear on Bob Weiser's "Old Songs' Home" radio show on WOMR on Monday morning. Check our website for more details.

A voluntary suggested donation per person to the musician(s) is requested. This is payable in cash at the door.

Remember, 100% of all contributions go directly to the performers so if you RSVP and can't make it, please let us know so we can give your seat to someone else.

Most of the musicians we host have CDs available for sale during the break and after the house concert.

Please RSVP to
singingoakhouseconcerts@gmail.com
or call 508.237.2024

Please support independent musicians!