Singing Oak House Concerts Presents
Jay Mankita and Spook Handy
Monday, April 16, 2018 at 7:00 PM
* Potluck finger food gathering at 6:15 *
A double treat for our Singing Oak House Concert folks...two great performers!!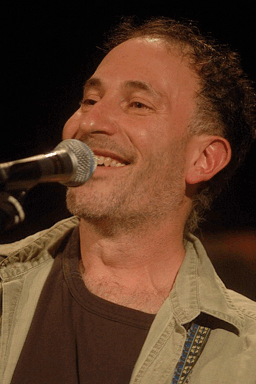 Jay Mankita
Read more >
Jay Mankita is a Northeast-based Americana songwriter and recording artist. A celebrated songwriter, innovative guitarist, and upbeat, often hilarious touring performer, who truly engages, inspires, and entertains.
Jay has recorded 6 albums, performed in over 1500 venues, and has recently seen 3 of his iconic songs, 'Living Planet', 'I Am A Dolphin', and 'From A Dog's Stance', in the new 'Rise Again' songbook, the follow-up to the much-loved 'Rise Up Singing' collection.

Jake Mankita - "Wild Thing, Baby"

Jay Mankita is the musical artist behind "Eat Like A Rainbow", one among a number of other musical projects.
He is a masterful guitarist, singer, and songwriter who for the past 30 years, has presented thousands of concerts for adults and for children.
His songs have been heard worldwide, having been sung and recorded by dozens of performers, groups, and choruses, and featured on albums such as Putumayo's internationally released 'Picnic Playground', and the 2011 Grammy-Nominated CD, 'Healthy Food For Thought'.
The strength and  clarity of Jay's unique style of guitar playing provides a rich rhythmic ground for his dynamic and original melodies and lyrics.
He is as well known for his funny songs like 'From a Dog's Stance', 'Tracy At The Bat', and 'The Cliche Song' as he is for songs like 'Living Planet', 'Morning Face', and 'Bread Alone'.
Over the years, Jay has shared the stage, opened for, performed with, and recorded with many well known artists, including: Pete Seeger, David Bromberg, Leon Russell, Tom Paxton, Paul Winter, and dozens of others.
He took his first guitar lessons at age 9, but he didn't pick it up again for another 9 years, when he started college. This time, Jay fell in love with the guitar, but his strange, double-jointed fingers couldn't play rock power chords all night long, and that led him to develop his unusual playing style which opened the door to a unique, and quirky style of songwriting.
Creating a balance between life as both a children's performer and an adult singer-songwriter has been a challenge, but it's helped to bring  a playful air to his serious songwriting, and serious musicianship to his work with kids.
These days, Jay is  working hard on his piano chops, and he is loving the process of developing a new set of musical skills.

Jake Mankita - "They Lied"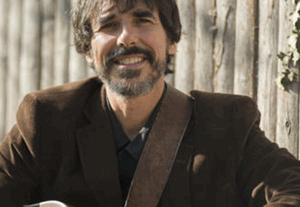 Spook Handy
Read more >
Spook Handy's new CD "Pete, Woody and Me, Volume I – Keep the Flame Alive" charted at No. 3 on the International Folk Radio Charts in both June and July 2016 with three songs charting in the top 20.
Spook performed alongside Pete Seeger at festivals and concerts more than 50 times from 2003 – 2013. In 2003, Pete invited Spook to perform with him at the Pumpkin Festival in Beacon, New York. The two hit it off.  What happened that day profoundly changed the direction of Spook's life. Over the next ten years, Spook learned a lot of Pete's songs and the stories behind them. And he learned a lot about who Pete Seeger was and what he stood for.
Spook was profoundly impressed with Pete's belief that each of us has all the tools we need to shape ourselves and our world into what we wish them to be – a belief Spook himself has held for most of his adult life. For some, these tools are within our grasp. For some they are at arms length. And for others they are just beyond arm's length. But they are all attainable if we work together.
<
"Always Have a Song to Sing" - Spook Handy &
The Seed Planters

Now, Spook is on a three year "Remembering Pete Seeger" World Tour bringing these songs and stories and Pete's message to all 50 U.S states, all 10 Canadian provinces, and many other countries (as well as all 21 New Jersey counties). He can be heard at theaters, arts centers, libraries, universities, churches and anywhere else people gather to celebrate Pete's life and legacy.
"I've always felt that an individual can leave a positive mark on the world," says Spook. "I eventually came to realize that the way I could make a difference was through music. The songs we choose are very important because all songs reflect and promote values. We want to sing songs that promote values we can espouse. But, Pete showed me that it's not just the content of a song that makes the difference. It's the humanity and the interaction you have with people. That's what touches people most. Pete knew how to make an audience feel comfortable, get involved in the conversation, and be part of the collective experience."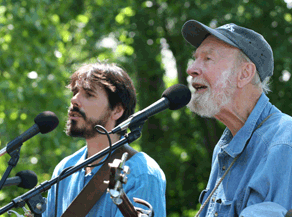 Spook Handy
Read more >
Spook was named Best Folk Artist by Upstage Magazine, Gannett New Jersey, The Courier News, The Home News and About.com. He has written for theater and film and his original songs have charted as high as #2 on the International Folk Radio Charts.
"The passion, purpose and spirit of American Folk Music are alive and well with Spook Handy and his Remembering Pete Seeger World Tour and concert." 
… Gary Wien – Editor in Chief, New Jersey Stage

Pete Seeger - David Amram - Spook Handy
"Quite Early Morning"
Monday May 14 -
Joe Jencks & Gathering Sparks

More great artists in the fall 2018!

---

Suggested Donation $20

RESERVATIONS ARE REQUIRED

Please RSVP to
singingoakhouseconcerts@gmail.com
or call 508.237.2024

We'll reply with confirmation, directions
and parking instructions

Potluck Gathering at 6:15 ~ feel free to bring finger food/dessert and/or beverage to share

Singing Oak House Concerts is located in West Harwich at the home of Ralph Diamond and Gail McAleer. All concerts are non-commercial, private events. Admissions are collected as donations, 100% of which go to the performing artist.

This promises to be another amazing concert and rare opportunity to experience these amazing artists in a warm, Cape Cod setting. Thanks and we look forward to sharing the music together!

Ralph and Gail
Singing Oak House Concerts
singingoakhouseconcerts@gmail.com

---

RESERVATIONS ARE REQUIRED.

Some of our house concerts fill up so please RSVP early.

Our house concerts usually begin at 7:00 P.M. with a potluck appetizer social gathering starting at 6:15. Most concerts are hosted either on Sunday or Monday evenings and our performers usually appear on Bob Weiser's "Old Songs' Home" radio show on WOMR on Monday morning. Check our website for more details.

A voluntary suggested donation per person to the musician(s) is requested. This is payable in cash at the door.

Remember, 100% of all contributions go directly to the performers so if you RSVP and can't make it, please let us know so we can give your seat to someone else.

Most of the musicians we host have CDs available for sale during the break and after the house concert.

Please RSVP to
singingoakhouseconcerts@gmail.com
or call 508.237.2024

Please support independent musicians!