Singing Oak House Concerts is thrilled to welcome back this fabulous singer, songwriter, and musician, Joe Crookston!
This comment on Youtube was so true: "I've watched audiences glued to their seats at the end of Joe's shows simply not wanting the evening to end. There is a spirit in his music that is simultaneously sacred, celebratory, artful and solidly grounded in tradition. Go see this man perform, and don't be surprised if you drive home singing his songs with a renewed sense of what's possible."
Through his spirit and playfulness and his unwavering courage to be himself, we were moved in ways we didn't expect. He is literate, poignant and funny. We were all glad we came.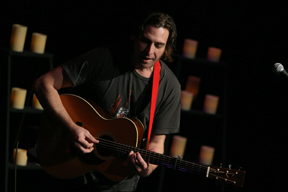 Joe Crookston
Read more >
Songwriter, guitarist, painter, fiddler, slide player, eco-village member and believer in all things possible. Named 2016 Folk Alliance International Artist-in- Resident, he's played with Suzanne Vega, Dar Williams, David Francey, John McCutcheon, John Gorka, Judy Collins and 100's more. His songs are cinematic and are being made into award winning films. Watch this trailer for Brooklyn in July 
He'll  surprise you and awaken the cynics.   He's plumbing for lyrical gold like a social archeologist. His songs are universal, his rhythm infectious and in concert, he is funny as hell one moment and transcendent the next.
HE BELIEVES IN STORIES
Come to a show. Mystical, and humorous roads, twisting through vivid cinematography.  Like short 4:00 films. Visual, artful and human. Brooklyn in July, Oklahoma towns, rattlesnake tails, turbary thieves, Galway heather, meter maids and drunk roosters. At the end of the night, you'll leave inspired.  "The Long Note" is a phrase in Irish culture."The Long Note" is that place of resonance and transcendence where the music, the voices, the instruments, and the community ALL come together and unite.
THERE IS A LONG NOTE & JOE IS REACHING FOR IT!
Whether he's picking his 48 Gibson, weaving through lap slide songs or looping his fiddle, he will draw you in.  It happens every time.  Watch a YouTube video. It's good, but it's not the same. You gotta come to a show.  With unwavering courage to be himself, he is literate, poignant and funny as hell.

Joe Crookston - "A Little Bit Lovely & A Little Bit Mean"
Joe Crookston is a master storyteller & he is seeking the creative edge.   His music swirls with themes of lightness, darkness, clocks ticking, fiddle looping, weeping willows, slide guitar bending, cynicism, hope, and the cycles of life and rebirth. If you love a moving song and musical madness, Joe Crookston delivers it all, the melodies, the lyrics, the energy, and a deep passion for exceptionally well-written songs.