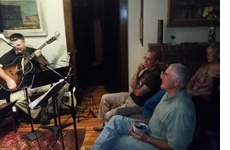 Singing Oak House Concerts is located in our private residence in West Harwich on Cape Cod. Please contact us at singingoakhouseconcerts@gmail.com for information, reservations, and directions.
It's our great pleasure to provide a musical venue for these hard working traveling performers. Our house concerts are by invitation only. Please let us know if you'd like to be included on our mailing list.
Thanks and we look forward to sharing the music with you.
Ralph & Gail